General Criteria for Major Declaration
As the university is accepting lower division undergraduate students, the School of Engineering saw the need to update the major change criteria to allow all students the ability to change majors regardless of their entry standing.
Due to time to degree, three majors have identified additional criteria.
The unit count criteria is based on the total amount of units a student has completed (including AP/IB, Community College, etc.) as established by the Registrar's Office on a students Audit.
For Spring/Summer/Fall 2020 "P" letter grade is accepted in all major coursework
To declare a major within the School of Engineering, continuing students must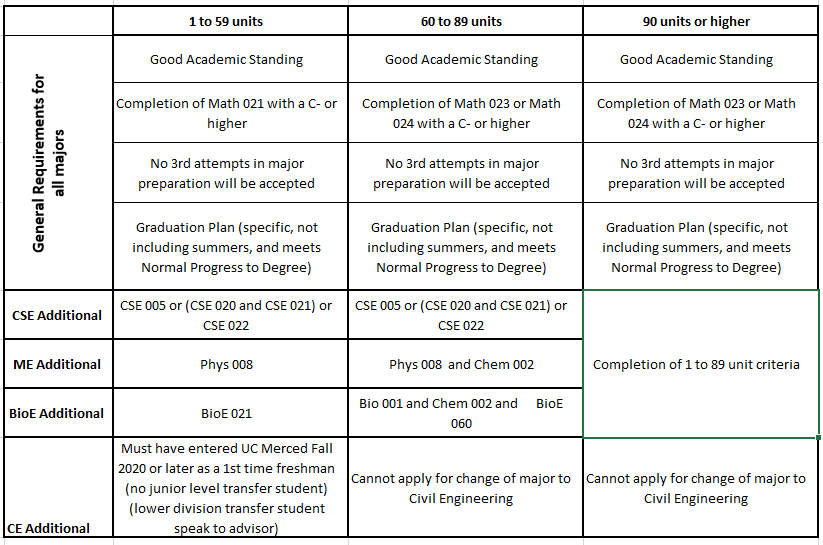 Submit a Proposed Plan through Graduation to show that they can complete their degree requirements within 10 total semesters (not including summers). The Proposed Plan through Graduation should be completed through MyDegreePath Plan Builder. These plans must be received by the student's academic advisor at least two weeks before the major change deadline. If approved, the Proposed Plan through Graduation must be followed, otherwise, the student will be subject to dismissal and could be removed from the School of Engineering.
Double Majors
Students who plan to declare Multiple Majors can find policies regarding it within the application.

Double Majors NOT APPROVED by the School of Engineering

CE/ any other engineering major

CE/ ESS

CSE/Applied Math (Computer Science Emphasis) 

CSE/ any other engineering major 

ENVE/Applied Math (Environmental Emphasis) 

ENVE/ESS 

ME/Applied Math (Engineering Emphasis)

MSE/ME 

MSE/Applied Math (Engineering Emphasis)
Additional Transfer Student Criteria
Transfer Students (JR level transfers only): Students must meet admission criteria at the time of admissions to declare a major within Engineering. Major change to the School of Engineering after the student has begun studies at UC Merced will be evaulated on admission criteria only from the time of admissions. Contact your advisor for more information.

Transfer Students (Lower division transfer): Speak to your academic advisor directly about major change.